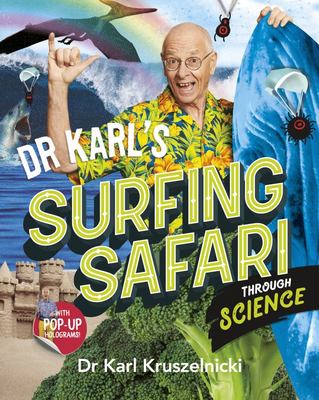 $35.00
AUD
Category: Education
Australia's favourite science guru returns with a new haul of extraordinary stories from our incredible Universe - includes pop-up Dr Karl holograms! Dr Karl is surfing the Universe for all that's gnarly, awesome, weird and wonderful.Why is sharpening a pencil in space a risky business?What makes a suns et red and not blue?How far would the Earth's viruses reach if you laid them end to end?Which animal grows an anus every time it needs to poo?Find out how spiders can fly and count, whether 5G networks are safe, why we're running out of sand, and the answer to the Question on Everyone's Lips - how to make the best coffee.Plus loads more, including pop-up Karl holograms!So take a surfing safari with Dr Karl and get ready to Hang Ten - or wipe out. ...Show more
$9.99
AUD
Category: Education | Series: Buster Brain Games
A new title in the hugely successful Clever Kids series, this book is filled with sudoku puzzles to put your brain to the test. There are plenty of number puzzles to test your mental arithmetic and problem solving skills. The book also features a simple sudoku tutorial at the start, featuring invaluable tips and tricks. Created by bestselling puzzle book author Gareth Moore, author of the chart-topping success Brain Games for Clever Kids. ...Show more
$9.99
AUD
Category: Education | Series: Buster Brain Games
A new title in the hugely successful Clever Kids series, this book is packed with memory, word and number games for you to solve. From battleships and mind-bending spot the differences to mazes and number pyramids, there are plenty of puzzles to give your brain a workout. Created by bestselling puzzle b ook author Gareth Moore, author of the chart-topping success Brain Games for Clever Kids. ...Show more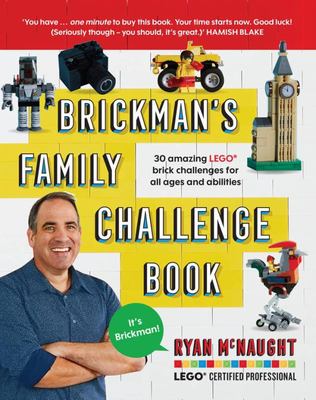 $35.00
AUD
Category: Education
Lego building challenges for all ages and levels by the star judge of the smash hit TV show LEGO® Masters. Challenge each member of your household to a building competition that is the brainchild of Brickman himself, star judge of the smash hit TV show LEGO® Masters Australia and a LEGO Certified Profes sional. Each of the 30 challenges can be attempted at beginner, intermediate and advanced levels. So whether you're 5 or 105, an infrequent brick builder or a huge LEGO fan, this book will get you off your screen and get your creative juices flowing with even the most basic LEGO collection.Including:- Maze runner: build a maze with obstacles and design themes- Model mashup: roll a die to determine which hybrid model you need to build in under 2 hours-a Supersonic Banana Plane, anyone?- Self-portrait: one of the hardest things to build with LEGO is curves, but Brickman helps you crack the techniques for building a recognisable 3D portrait of yourself.Packed with pro tips and suggestions on how to take your builds to the next level, as well as a 'know your bricks' glossary, this book will turn you into a Master LEGO Builder in no time.Are you up for the challenge?   ...Show more
$24.99
AUD
Category: Education
Can you imagine anything more gross than the human body?Seriously, inside and out, it is DISGUSTING! Blood and guts are bad enough, but there is so much more. We burp and fart. We secrete spit and snot and sweat. We pee! We poo! Everywhere we go, we're shedding bits of ourselves. Skin. Hair. Nails. And bodies are a breeding ground for germs, bacteria, fungus, lice and more. The Human Body Survival Guide will take you on a weird and wonderful journey and teach you everything you wanted to know about our bodies, and some stuff you didn't want to know! Ever wondered what the biggest organ in the body is? Whether your nose and ears continue to grow after you die? Or what a healthy poo looks like? Hold on to your insides... Here we GO! ...Show more
$24.99
AUD
Category: Education
  This fun and colourful lift-the-flap book gives a unique insight into how cities looked in the past, compared to how they look now. With ancient cities and ruins including Pompeii, Great Zimbabwe and Babylon, discover how history has shaped our planet''s urban areas and changed them over time.  Featur ed cities include: Thebes in Egypt (c. 900 BCE) - Shows the ancient Egyptian capital of Thebes compared to the modern city of Luxor. Featured elements include the Temple of Karnak, the Temple of Luxor and King Tutankahmun''s Tomb in the Valley of the Kings Constantinople, Turkey (c. 550) - Highlights the capital of the Eastern Roman/Byzantine Empire as it looked at its peak in the 6th century, with its giant hippodrome compared with the modern city of Istanbul Aarhus, Denmark (c. 950) - Showcases the Viking city of Aarhus as it was in the 10th century, compared to the port city that has grown up in its place Tenochtitlan, Mexico (c. 1521) -  Exhibits the vast capital of the Aztecs as it was at the moment of the Spanish invasion compared to the cosmopolitan Mexico City which was built on top of it Rio de Janeiro, Brazil (c. 1565) - Explores the Brazilian city as it looked at the moment of its foundation, still largely covered in tropical jungle, to how it looks now London, United Kingdom (c. 1666) - Delves into how London has changed since the time of the Great Fire of London to the present day And much, much more! About Lonely Planet Kids:Lonely Planet Kids - an imprint of the world''s leading travel authority Lonely Planet - published its first book in 2011. Over the past 45 years, Lonely Planet has grown a dedicated global community of travellers, many of whom are now sharing a passion for exploration with their children. Lonely Planet Kids educates and encourages young readers at home and in school to learn about the world with engaging books on culture, sociology, geography, nature, history, space and more. We want to inspire the next generation of global citizens and help kids and their parents to approach life in a way that makes every day an adventure. Come explore!   ...Show more
$24.99
AUD
Category: Education
The Earth's climate is changing. It's getting hotter. In Australia over the past 50 years, maximum temperatures have been creeping higher. There have been record droughts, floods and bushfires. Why is this happening and what can we do to stop it getting worse?
$29.99
AUD
Category: Education
FANTASTIC FESTIVITIES, CRAZY CELEBRATIONS and HOLY HOLIDAYS From tomato-throwing parties to graveside picnics, fire-walking ceremonies, crying baby competitions and the biggest bathing festival on Earth - this book introduces you to some of the world's most incredible cultural and religious celebration s. Some festivals are outrageously fun and joyful, others are more serious. All of them bring people together to mark big events in life.So join us in this riotous explosion of colour as we feast, sing, cry and celebrate the diversity of festivals and traditions this wonderful world of ours has to offer. ...Show more
$19.99
AUD
Category: Education
Take your place in the Green Nation, a nation without geographical borders that unites the youth of today in their fight for the planet.   From the economy and new professions, to advanced technology and sustainable start-ups, learn how the world needs to change in order to secure its future, and find o ut what role you can play in that change.   With in-depth text and data, this crucial book will answer readers' questions on what comes next in our fight for the future.   ...Show more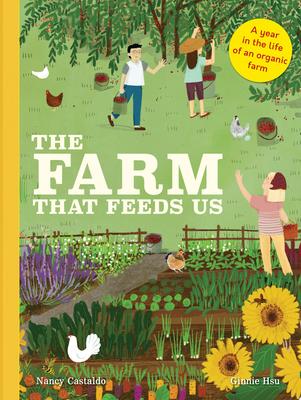 $24.99
AUD
Category: Education
The Farm That Feeds Us is a stylishly illustrated non-fiction book looking at the workings of a family farm, the different animals, crops, and machinery, and the rhythm of farm life throughout the year.
$26.99
AUD
Category: Education
Little one, when we say Black Lives Matter,we're saying black people are wonderful-strong. That we deserve to be treated with basic respect,and that history's done us wrong. From birth to the end of school, in joy and in sorrow, on the trumpet and the djembe, at home and in the community, a black child' s parents remind him why Black Lives Matter. A gorgeous and essential picture book for children of all ages from bestselling and award-winning author Maxine Beneba Clarke.In When We Say Black Lives Matter, a black child's parents explain what the term Black Lives Matter means to them: in protest and song, in joy and in sorrow. I see this picture book as an act of Black Love - I was inspired to write and create it when thinking about how to explain the concept of Black Lives Matter to the young African diaspora kids in my extended family, living in over eight different countries across the world - including America, Australia, Germany, Barbados and England. - Maxine Beneba Clarke, on writing WHEN WE SAY BLACK LIVES MATTERA portion of the proceeds from the sale of this book will be donated to the Indigenous Literacy Foundation. ...Show more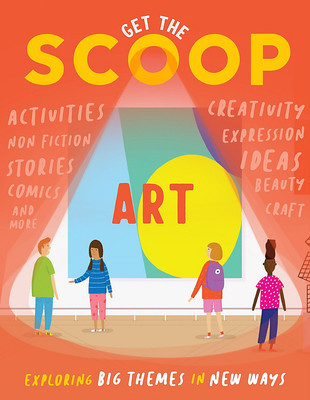 $16.99
AUD
Category: Education
Get the Scoop shines a light on big themes in a fresh and fun new way. Featuring a unique blend of factual articles with creative stories, comics and activities, Get the Scoop is a perfect introduction to big topics for curious kids.Get the Scoop: Art reminds us that art is everywhere. This book introdu ces key art movements while expanding our idea of what art can be, from selfies to graffiti and even nature. Articles and stories remind us of the power of art to make our lives better, while activities help us to find our inner artist. ...Show more